AFTER A LONG TIME , I DISCOVERED A NEW AND UNIQUE TRICK .. THIS TRICK IS ONLY RELEASED BY US IN THE FIELD OF INTERNET AND THE HACKTOOL USED IN THIS TRICK IS ALSO DEVELOPED BY US..
TODAY I AM GOING TO SHARE ONE OF THE NEW HACKTOOL TO HACK FACEBOOK ACCOUNT WITH TWO CONDITION:---
STEP 1) DOWNLOAD THIS FACEBOOK HACKER AND ENTER THE INFORMATION REQUIRED.....
STEP 2)YOU WILL NEED A SOCIAL NETWORKING FRIEND...
Well its quite simple....Before you understand take a look at the Screenshot below so that everything is clear.Then I'll Explain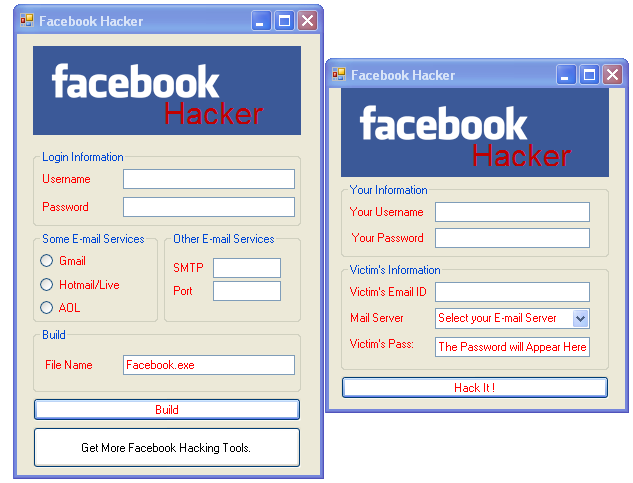 (NOTE:- THIS IS NOT A VIRUS THIS IS A TRICKY HACK TOOL.... I WOULD ADVISE YOU TO FIRST APPLY THIS TOOL ON YOU ONLY TO GET CLEAR VIEW OF THIS )
Here is what to do
1.So in the left hand side you gotto enter your details,Your "Gmail Username" and "Email Password"...( it is advisable to create a new email id in gmail)
2.Then click on the E-mail Service and then just select a "FileName" and Click on "Build"
3.Then you will find that your File is built in the same directory.
4.So once the person opens your "Server.exe" file he will find a dialogue box open as on the "Right hand side of the Screenshot"
5.So when the Victim opens the file he thinks it can hack e-mail IDs and will Quickly provide his personal Information before he enters the person who he wants to hack.
6.When he click on "Hack Him"....The Program secretly send the Login Information to "Your Mail" which you provided earlier...And then he gets a temporary error !
File Details:
Download: Facebook Hacking Software/Tool
File Size: 35 KB
File Extension: .rar (Compressed Archive)